It is essential, particularly in today's era of remote or flexible work, to make sure you & your team are using the best possible tools for managing projects. Even though many of us have been doing a remote job for a while, the tools that used to be effective for your team may no longer be. Because of this, selecting a solution for project management involves significant thought and study.
If you're looking for a Kanban-based tool that will help you manage several projects, Trello is a solid option to consider. Trello's flexibility and ease of use in fitting your own and your team's workflow are only two of its many perks. Trello is a visual project management tool that helps you organize your work by assigning due dates to tasks and sharing your progress with team members. But, Trello's limited capability becomes a problem when you need to handle a large number of projects and want to see each one in a distinct layout other than Boards. If this is the situation your team is now facing, it is time to start thinking about finding a replacement for Trello. To help you improve your management process, we've compiled a list of our preferred productivity applications that are great Trello alternatives.
Trello Alternatives to use in 2023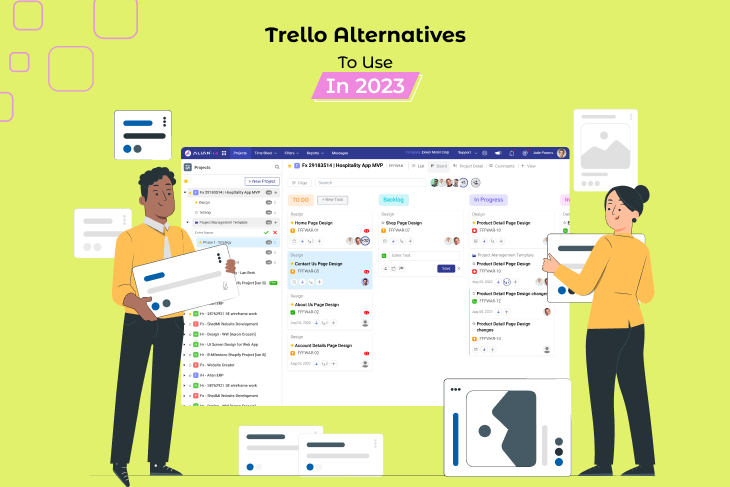 There are a number of other options for managing projects than Trello that you may think about using. The following are some of the most common choices:
Alian Hub: Alian Hub is our first preferred Trello alternative for modern companies. It is a one-stop solution for managing your project effortlessly. It facilitates efficient project management with brilliant features like workload management, timesheets, automatic time tracking, employee management, team management, milestone tracking, generating reports and more. Additionally, your company data is kept secure in your company's own database. Furthermore, it helps to visualize the progress of the project with distinct views like Kanban, List, table, embed and more. Lastly, it's adaptable to teams of any size and field of work such as marketing and sales, Engineering, and IT. To help you how Alian Hub works, check out the Alian Hub User Guide.
Monday.com: monday.com is a basic platform for managing projects. In terms of project management complexity, it's ideal for small teams to do relatively straightforward tasks. Monday might be a nice Trello alternative if you're looking for anything for small teams. It helps in managing time, workload, employees and projects. It also works with other Google apps like Drive, Gmail, Calendar, and more. Last but not least, you and your team members can work together and exchange files in real-time.
Wrike: If you are part of a rapidly expanding team, the basic boards that Trello provides will not be sufficient. Wrike is fantastic because it provides dashboards, live Gantt charts, strategic planning, and transparency across projects. Customized dashboards and one-of-a-kind automation simplify and expedite the process with only a few mouse clicks. In case, you have many projects that need to be worked on by people from various departments, Alian Hub is a viable Trello alternative to Wrike. .
Asana: It is a complete and highly engaging project management application. Tasks form the backbone of the application, allowing users to organize their work into projects and allocate tasks to specific members of their teams. By setting team goals, you may track the development of important projects over time, and the workload management feature lets you chart the distribution of work among team members. Furthermore, Asana like Alian Hub has a great deal more room for personalization than Trello does. When analyzing project outcomes over time, Asana's ability to generate reports and monitor progress is invaluable.
Airtable: For more complex data or time-based task mapping, Airtable's basic spreadsheet layout may be preferable compared to Kanban. Images, references to related tasks, and assigned individuals may all be included as attachments in the spreadsheet. In case, you want to move from Airtable's primary view, they provide a calendar, Kanban, and other views. If you spend most of your day using Google Sheets, this is one of the finest project management tools for you to use.
ProofHub: ProofHub is another Trello alternative since it centralizes all the resources you want. As mentioned above, Trello's traditional Kanban boards aren't the only method teams can organize their work; this platform same as Alian Hub offers alternatives like a table view and a Gantt chart. Tasks, chat, user-defined roles, and individualized processes are some of ProofHub's other foundational features that let teams collaborate on complex projects. ProofHub is superior to Trello in many respects, including being much more feature-rich and useful for large-scale project management. For big teams who charge by the hour, ProofHub's time and resource tracking features are invaluable.
Conclusion
In conclusion, despite the fact that Trello is a widely used application for project management, there are a great many other options to choose from that provide equivalent or even more comprehensive functionality. Before settling on a solution for your team, it is essential to do a thorough analysis of the characteristics and potential applications of all of the available choices.
Frequently asked questions
Which is the best of all Trello alternatives to use in 2023?
Alian Hub is an effortless project management solution to use. It is the best Trello alternative due to its outstanding features like automatic time tracking, employee management, workload management and more.
Does Google have a Trello alternative?
No, Google doesn't have any Trello alternative for project management.
How is Asana better than Trello?
Asana provides a variety of project views, including calendars, processes, and timers, whereas Trello is more focused on Kanban boards. Thus, it makes it better than Trello.
Does Microsoft Have Something Like Trello?
Both Microsoft Planner and Microsoft Project are available as other alternatives to Trello for project management.
What is a free alternative to Trello?
Alian Hub, Clickup, monday.com and more are free Trello alternatives.