Employee management becomes more difficult and time-consuming as a company expands. Staff operations, from training to hiring, may be simplified with the aid of HR software. Choosing the best human resources software for your company might be challenging due to the abundance of accessible solutions. The software solutions available today provide a wide range of tools to improve human resource management in firms of all sizes. This post lists and evaluates the 10 best human resources management solutions that are currently available.
Features and Advantages of HR Software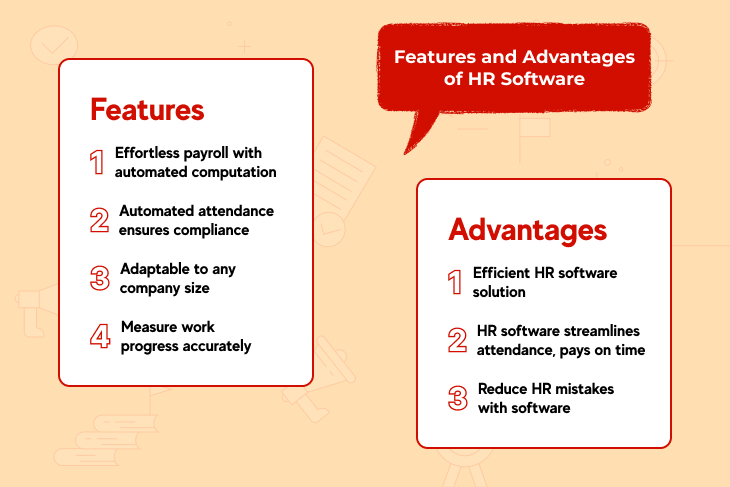 Human resources software is a versatile tool that may be used to simplify many aspects of managing your staff. Some of the most useful capabilities of such software include:
Automation of payroll procedures, simplifying the computation of wages, benefits, and taxes for employees.
Automation of time and attendance monitoring. This function may guarantee that workers are paid correctly and help companies comply with labour rules.
Adaptation to meet the demands of enterprises of any size.
Useful for managing employees' performance by keeping tabs on their work progress and task completion.
Thus, the features of HR software help in managing employees effortlessly. Let's know its advantages.
The efficiency of HR departments may be improved by using human resources software to streamline administrative activities like employee management, hiring and relieving.
Time and attendance monitoring are just two examples of HR operations that may benefit from the use of human resources software, which can help ensure that employees receive their wages in a timely manner.
Errors in HR procedures may be reduced with the use of appropriate software.
Points to consider while choosing HR software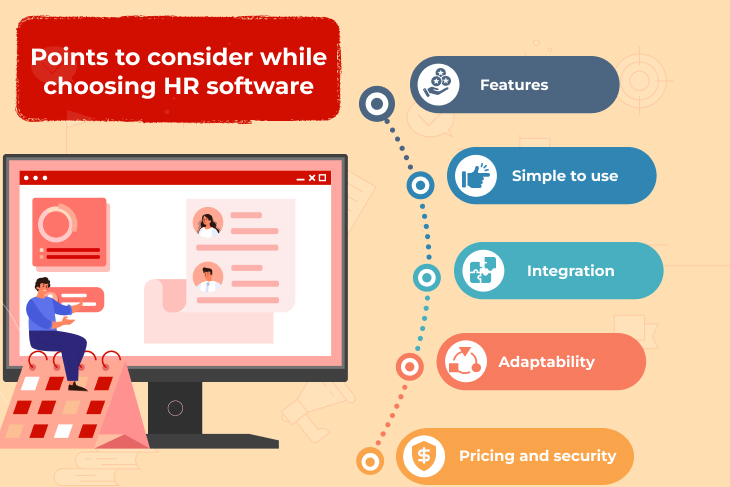 While choosing HR software for your company, the following are some important considerations to keep in mind:
Features : While researching HR software, be sure it has all the features you'll need to manage your staff efficiently. List out the must-have features before selecting the software.
Simple to use: Easy learning curve and fully optimized are other desirable qualities you should look for.
Integration: Take into consideration HR software that can connect with other enterprise resource planning and applicant tracking systems.
Adaptability: Choose software that can scale up and is flexible enough to meet the changing demands of your firm as it expands and develops.
Pricing and security: Try to find reasonably priced software which can meet your needs and is totally secure.
10 Best HR management software
Let's look at the best 10 software for HR management available today, their characteristics, and how they may help your company.
Alian Hub: When it comes to providing end-to-end solutions for companies of any size and in any sector, no other platform compares to Alian Hub's comprehensiveness. Alian Hub is our first and most selected dynamic HR software that helps in handling HR-related tasks along with project management with ease. It includes all the features you require to streamline and improve time-honoured HR procedures, such as the hiring process, onboarding of new workers, and monitoring of their performance. Furthermore, HR teams can save time on manual employee time monitoring by shifting to automatic time-tracking facilitated by Alian Hub.
BambooHR: BambooHR's goal is to provide better employee management solutions to its customers. However, BambooHR may not be the ideal fit for a big enterprise, but its ability to serve medium and small organizations is incomparable. It may be used to monitor critical metrics, evaluate employee performance, and generate individualized reports.
Zenefits: Zenefits was established in 2013 with the goal of easing the burdens of HR-related tasks in small and medium-sized businesses. It helps in saving time and minimizing administrative tasks. Furthermore, it aids in payroll management making it easy and quick.
Paycor: Human resources services from Paycor are tailored to the specific needs of the company, whether it's a startup or a large enterprise. It is an HCM software that lets you focus on your talent management. It provides more robust features like employee onboarding, 24-hour customer service, and statistics.
Rippling: The Rippling platform streamlines HR and financial operations. This human resources software is easy to use, simple to learn, and packed with useful tools like payroll analysis and employee satisfaction surveys. Furthermore, it is designed to handle a multinational workforce, it includes regional payroll, tax, and compliance options.
Gusto: It is an HR system that helps handle payroll, perks, performance evaluations, and trainee and new hire onboarding for businesses of all sizes. Gusto helps in complete payroll processing with features like automatic tax filing and payments to freelancers. But, there is a significant price difference between the various premium programs, and there is no free option.
Namely: Namely helps medium-sized organizations with things like payroll, benefits administration, and employee time tracking. It makes it quite simple for workers to see their own time records and payslips online. However, large organizations may find it difficult to use the platform's data management features since it was designed specifically for midsize groups.
Oracle: Oracle helps large businesses with several tasks, including resource planning, content management, and client experience. It is like a virtual assistant to aid in employee benefits administration, staff planning, and overall business strategy. But, the time required for setup and the learning curve might be significant as it is a software comprising various functions.
Clockify: It is just a time-tracking application that HR departments may use to monitor and organize workers' daily activities. The human resources team may get information on employees' productivity, ongoing projects, and overall activity using Clockify. Additionally, it provides workers with a personal work schedule for making a request for time off at any time of the year.
Scribe: If you work in human resources, Scribe is a useful tool for recording your and the employees' daily procedures. It is simple to use for exporting and sharing including PDF, embedding, and URL. Furthermore, it is a great resource for rapidly instructing new employees about the company's standard operating procedures.
Conclusion
In conclusion, it's crucial to invest in high-quality human resources software. HR software may help firms save time and money by automating HR operations, increasing compliance, and streamlining staff management, all while increasing employee involvement and satisfaction. Lately, while deciding on HR software, it's important to think about its features, usability, integration, flexibility, safety, support, and cost.
Frequently asked questions
Which is the best HR software?
Alian Hub facilitates HR teams to manage employees, track employee working time and evaluate employee performance. This makes it perfect for HR and project management.
Which software are used for HR?
Alian Hub, BambooHR, Zenefits, Paycor and more can be used for HR management.
Do you need HR software?
Human resource management software helps businesses save time and effort by automating administrative activities and facilitating data management. Thus, companies need HR software.
What makes good HR software?
Good human resources software is capable of helping with things like evaluations of staff performance, and time and attendance monitoring.
Can you use Clockify as HR software?
Yes, you can use Clockify as HR software for tracking employee work time.