In any workspace, communication between team members is important to generate novel ideas and increase work efficiency. Many workplaces conduct brainstorming meetings, team dinners, workshops and more to fill the communication gap present in teams. Though, it is not enough to achieve maximum productivity. There must be a proper environment that helps teams to cooperate. A cooperative workspace can be made with the use of the right collaboration software. Let's move forward to understand this in detail.
Importance of Team Collaboration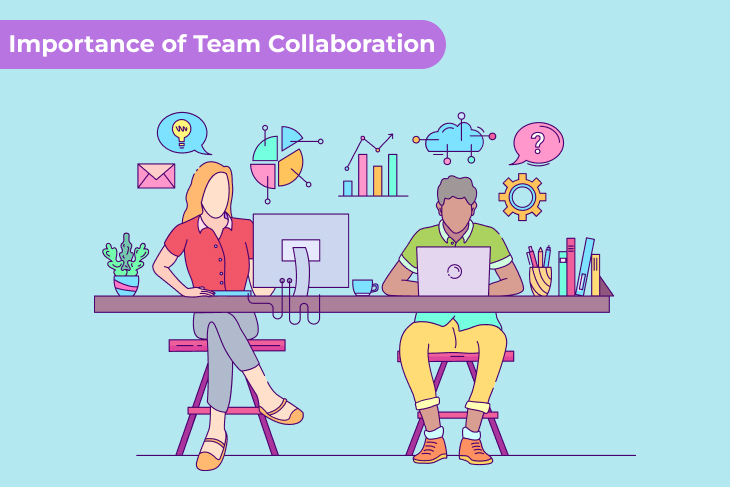 Team collaboration is done between team members when they work together and have a common goal. Team cooperation in agile stands for team members collaborating with each other and successfully achieving complex task goals. There are many benefits of team collaboration listed below that prove its importance.
Firstly, it encourages peer-to-peer learning. Team members will be able to share their knowledge and improve their skills by learning from others.
Secondly, it helps in brainstorming and generating novel ideas. Every team member will have a different idea which will help in achieving the task goal.
Furthermore, giving feedback and listening to others helps in maintaining mutual responsibility and respect.
Team members will be able to assist one another in solving task issues and accelerating the task's completion. Thus, the productivity of the team increases and ultimately leads to the success of the company.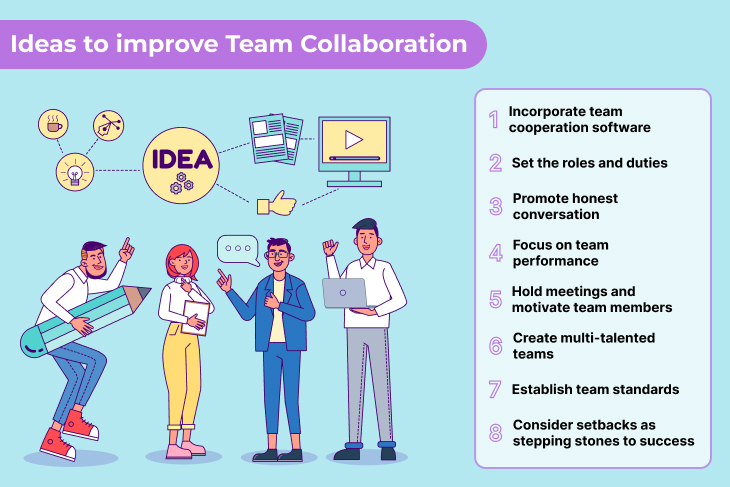 Ideas to improve Team Collaboration
Team cooperation becomes tough when team members are working remotely. Even at the workplace, it becomes difficult to cooperate and solve doubts without disturbing other employees. Thus, the following ideas can be implemented in the workplace to help in such situations and enhance teamwork.
Incorporate team cooperation software: Use a high-calibre and cost-effective team collaboration software like Alian Hub. To boost team cooperation, this powerful software allows team members to communicate with each other and solve their doubts with real-time chat and voice recording. Furthermore, it allows users to share files and resources related to tasks or projects. Apart from communication, team members can manage their projects with ease by creating tasks, assigning tasks and checking the progress of the tasks. Other features like workload management, timesheet management and milestone management of this software can aid team members in accomplishing their project completion goals.
Set the roles and duties: Another important aspect of productive teamwork is establishing clear roles and duties. It's important for everyone in the team to know their role and how they're helping to succeed. This may lessen the likelihood of misunderstandings, waste of effort, and violent clashes. Thus, team members may be given responsibilities that best fit their skill sets and allow them to make meaningful contributions to the team's overall performance.
Promote honest conversation: In order to work together efficiently, open communication is required. Members of the team should feel safe voicing their opinions and concerns to one another, even if they differ. If you want your staff to feel comfortable speaking their minds, you need to create an atmosphere of trust and mutual respect.
Focus on team performance: Lack of focus or an overly relaxed attitude is the major reason for a team missing task deadlines. Thus, to improve team performance, define work objectives and plan work using project management software. Set up a brainstorming session to find a solution to a persistent issue. Lastly, don't only focus on flaws but highlight the successes as well.
Hold meetings and motivate team members: Avoid draining team energy and conduct quick meetings to discuss the main points and inspire team members to work effectively. Find novel approaches to promote relaxation to cut down on work stress.
Create multi-talented teams: Usually, a team consists of members who have similar skill sets and expertise. This makes it tough to fix problems that call for a broad spectrum of knowledge. Form multidisciplinary teams where individuals bring unique perspectives and expertise to the board. Thus, teams can solve an issue more efficiently and with fewer stages in between
Establish team standards: Set rules for the team to perform better and reach the task goals. Do performance tracking, work evaluation, time management and more. Discuss the importance of punctuality in the workplace.
Consider setbacks as stepping stones to success: Your staff is human, and it is unavoidable that they will make some errors. Instead of focusing on errors, use this time to reflect on what went wrong, take the feedback of other members and solve the errors in the present. Find ways to avoid making similar errors in future.
Conclusion
Working together as a team is crucial for any business. Collaborating improves problem-solving, efficiency, and decision-making. Organizations may boost teamwork by prioritizing communication, cultivating a positive team culture, and investing in the appropriate technology and resources. Alian Hub is an all-in-one solution that assists companies of any size in team collaboration, managing their daily operations and becoming more productive with a single subscription.
Frequently asked questions
What is effective team collaboration?
Effective team collaboration is a method of communicating and managing projects that value creative problem-solving, open communication, and shared responsibilities.
Which is the best team collaboration software?
Alian Hub is a cost-effective team collaboration software that facilitates real-time chatting and audio recordings to help team members clarify issues and work together more effectively.
Why is team collaboration important?
Collaboration enhances your group's ability to work together and find solutions to problems. You may assist one another in accomplishing your objectives and actively listening to one another and gaining knowledge from them.
Is Slack team collaboration software?
Yes, Slack is a collaboration software which allows teams from different departments to communicate and work together.
List the best collaboration tools for virtual teams.
Alian Hub, Flowdock, Slack, Zoom, and Google meet are collaboration tools for virtual teams.