In order to meet certain project objectives in a certain time period, a team must do project management. Planning, assigning, monitoring, and collaborating on tasks, etc. are all part of this. Project management software aid in the process of creating tasks, carrying them out, and keeping records of how things are going. This blog will go through some of the characteristics of popular project management tools, as well as their usefulness to project leads and their team.
What is Project Management Software?
A project management tool helps project leads and their teams manage tasks and resources of a project efficiently. You can schedule tasks, assign resources, monitor your progress, work together with your team, and generate reports with the help of these helpful software. The use of project management software is essential for keeping teams on track and ensuring that projects are finished on time, within budget, and to the standard.
Characteristics of Project Management Software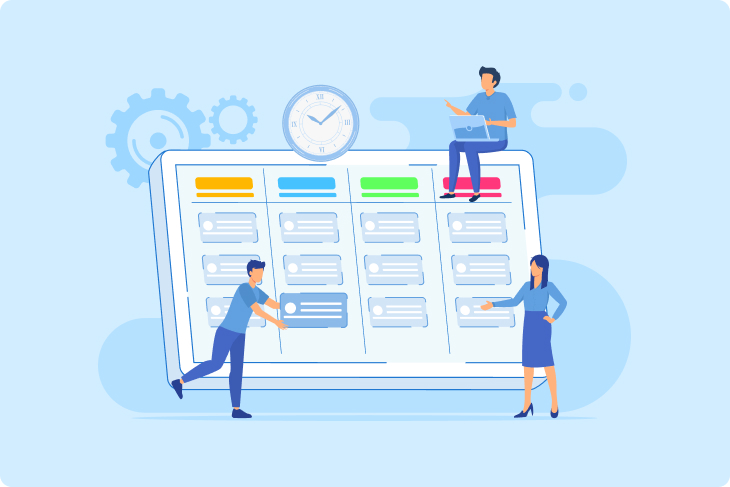 The following is a list of characteristics that are often seen in project management tools:
Management of Tasks: It is an essential component of any effective project management solution. It provides project leaders with the ability to create tasks, assign those tasks to members of the team, set up due dates, and monitor task progress.
Collaboration: It is an essential component of project management tools, as it enables members of a team to interact with one another, exchange documents, and work together in an efficient manner.
Time Monitoring: It enables project supervisors to monitor how much time team members spend on tasks, which helps them manage their schedule and ensure that tasks are finished on time.
Reports: It is a crucial element of project management software since it enables project leads to produce work reports and evaluate performance, budget, and other metrics.
Workload Management: It helps in prioritizing tasks and estimating the time required to complete a particular task. This way, you can deliver your projects on the scheduled time.
Categories of  Project Management tools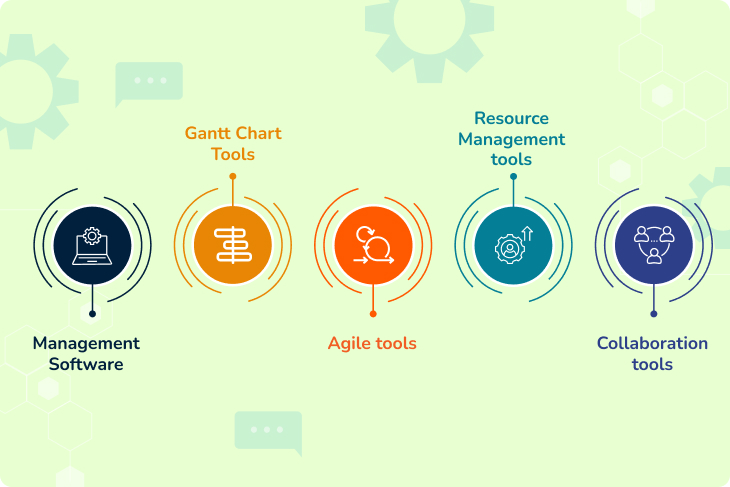 There are different categories of software for managing projects available in the market today. The following are some examples:
Management Software: Project leaders may create and assign tasks, and monitor their progress towards completion of those tasks within due dates with the use of this type of tool.
Gantt Chart Tools: Project managers can generate visual timelines of project tasks using Gantt chart tools. Therefore, they can manage dependencies and schedules.
Agile Tools: They are designed to facilitate project managers in handling projects using the Agile approach. These tools make it possible for teams to work together and adapt to changing needs.
Resource Management Tools: Such tools assist project leaders in successfully allocating resources ensuring that teams have all of the resources required to perform their work on time.
Collaboration Tools: Collaborative tools make it possible for members of a team to communicate with one another, exchange files, and work together without any problem.
Advantages of Using Project Management Tool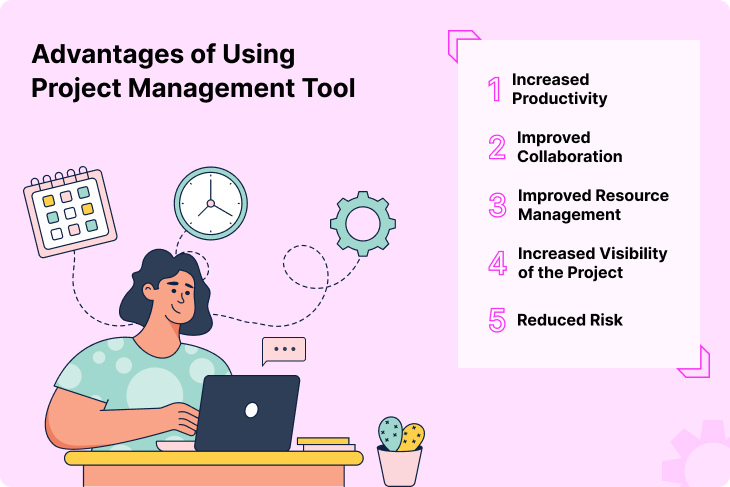 The following is a list of some of the advantages of utilizing software for managing projects:
Increased Productivity: Tools for project management make it possible for teams to operate effectively and avoid time-consuming activities such as manually recording and reporting data.
Improved Collaboration: Project management systems encourage increased collaboration by providing a platform for members of a team to interact with one another, exchange documents, and work together in real time on a project.
Improved Resource Management: By the use of project management tools, project leaders are able to efficiently distribute project resources, hence lowering the likelihood of either overusing or underusing those resources.
Increased Visibility of the Project: They give real-time insight into the status of the project, which enables project managers to detect and handle difficulties in a more efficient manner.
Reduced Risk: Furthermore, they help project managers reduce the risk of delayed delivery of projects by planning, allocating, and keeping track of progress.
Best Project Management Software
Alian Hub: Managing your business is easier with this comprehensive project management software. When you sign up for Alian Hub, you won't need any other software to manage your project and tasks. It has a wide range of features, including project management, workload management, time-tracking, human resource management, milestone reports, To-do lists, Work timer, business administration, marketing, etc.
Asana: Asana is a well-known platform for task management that allows project managers to create and assign tasks, monitor progress, and engage with members of their teams.
Trello: It is a visual task management solution that allows project managers to arrange work into boards, track task progress, and engage with team members.
Jira: It is a platform for agile project management that helps teams manage projects by using agile approaches such as Scrum and Kanban.
Microsoft Project: It is an all-inclusive application for project management that enables project leaders to produce reports, measure progress, manage resources, and establish schedules.
Monday.com: It is a solution for managing projects that provide teams with a platform that can be customized to help them better manage their tasks, projects, and processes.
Basecamp: It is a platform for project management that serves as a centralized center for the administration of tasks, communication among team members, and overall project cooperation.
Wrike: It is a platform for managing projects that include a broad variety of functions, such as task management, resource allocation, team interaction, file sharing, and reporting & automation.
Conclusion
The successful completion of any project depends on using appropriate project management tool. Project managers and their teams may get the benefits of increased productivity, collaboration, and management offered by these technologies throughout the project lifecycle. Selecting the appropriate project management software is essential, so think carefully about your company's needs, team's size, and budget. Subscribing to an all-in-one solution like Alian Hub will help small or large businesses handle their day-to-day tasks effectively and increase productivity.
Frequently asked questions
Which software is best for project management?
Alian Hub is the best project management tool as it has useful features like time tracking, project management, workload management, Kanban, and so on.
What is project management software for?
The goal of the project management software tool is to make it easier for organizations and people to keep track of ongoing projects, tasks, and deadlines. It's a fantastic method for keeping the team on track.
Does Google release software to manage projects?
No, Google has not yet released software that can handle projects.
Can I use MS Project for free?
Users of Microsoft Project cannot access any free tools or services. Subscription starts at $7 per user each month.
What is meant by agile project management?
It is a method of managing projects related to software development that emphasizes frequent updates and the adoption of user input at each stage of development.